Character Name
: Madotsuki Tatsudoshi
Nickname/Alias
: Dotsuki, Madu.
Gender
: Female
DOB
: September 2
Age
: 17
Rank
:5
Major
: Breeder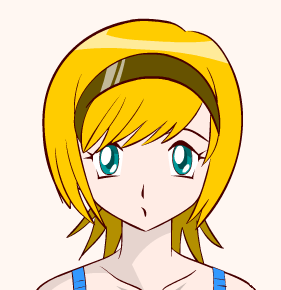 Height
: 5 ft 3
Weight
: 78 lbs
Hair Color
: Short and Blond
Eye Color
: Sky Blue
Build
: Lean
Tattoos/Piercings
: On nice occations she wears earings.
Other
: Whenever possible, she will wear blue.
Likes
: Her pokemon, anything with sugar in it really, cute pokemon (even if she has an odd way of defining "cute"), video games,
flowers, the color blue, and last but not least, burgers.
Dislikes
: Slimey pokemon, bullies, lazy people & pokemon, spicy food, "fancy" words.
Goals
: To become a well known breeder and get her own daycare.
Fears
: She is afraid that she won't have her dream come true.
Other
: She is a generally cheerful girl, often found playing with her pokemon during off times. She likes to make her pokemon do cute tricks
and dress them up in cute outfits. She tends to lose focus on things and just ends up kinda doing her own thing while others do what they are instructed to do.
Birthplace
: Castelia, Unova
Known Relatives
: Nope
Friends/Allies
: Not yet
Enemies/Rivals
: Not yet
lvl 3 Azurill ♂  "Navy"
lvl 9 Sylveon ♀ "Sparkle"
Notes
Navy cries a lot, and tends to ride on Sparkle's back. Sparkle sings a lot, and flirts with other pokemon on a regular basis.
Madotsuki was born in the big city of Castelia, she spend most of her time decorating her room and drawing. But her favorite time is when she would take care of the pokemon her parents were breeding. She would spend all her time taking care of them, giving them plenty of love, it was kinda sad when the pokemon had to go, but it was worth it. She got her first pokemon by her mother, which had been breed specificly for her. She loved her little Eevee, and while she did not battle much with her, she did take her to plenty of shows.
When she was about 14 her mom gave her (being a nurse) gave her a heal ball put her hand on Dotsuki's should and said "Promise me, if you find a pokemon that needs help, that you will use this ball. It will help them with their injuries, or cure their diseases." Dotsuki agreed and glady took her first empty pokeball.
Her dad (Knowing that she adores cute pokemon) gave her a fairy stone and she used it on her pokemon Sparkle at lvl 7. Sparkle one day ran up to Madotsuki and whined, pulling on her lovely blue dress. Madotsuki got the message and followed Sparkle into a allyway. Something was crying from the trashcan, it was a Azurill and it looked like it had been there for days. Madotsuki used her Heal Ball and caught the little pokemon easily before rushing home. She went to her room and let the little pokemon out. It looked like it was never hurt and it crawled onto Dotsuki's lap and cried a little as it was likely that he had been abandoned by his family.
She decided she would follow in her dad's footsteps and become a breeder. She worked hard towards it and showed great potential, she went to the acadamy for further studies and oppotunities to breed pokemon.
First OC and I had to change a lot because of other's OC's xD (Darn you for taking the pokemon I wanted before I could finish my OC!)
Sample RP
Madotsuki and Sparkle was watching Navy swim for the first time in his life. He seemed to enjoy it, though he was startled when some of the larger pokemon splashed in the water.
"It's ok Navy, it's just a little water." She said trying to calm Navy down a bit. She pulled out her drawing board and tried to draw her little blue pokemon. A Magikarp started spazzing out (or using the move splash, it's hard to tell) and it made Navy panic.
Sparkle seeing that she was having a bad time jumped in the water and picked up Navy, placing her gently next to Dotsuki. Madotsuki showed the little blue pokemon the drawing of her playing in the water. "Look how much fun you had. Do you want to come here tomorrow again when the Magikarp is not here?" Navy chuckled and nodded in response.
(The RP example is a bit short I know, but was all I could think of at the time xD)
Rawr!
Last edited by Princess Sarah on Wed Oct 16, 2013 8:29 am; edited 2 times in total
Head of Events




Posts

: 69


Join date

: 2013-09-18


Age

: 24



I is sorry but as we do not know how Eevee evolves into Sylveon I can not allow you to have it..
Admin




Posts

: 193


Join date

: 2013-09-17



He's right. Using the Aime app in the new games, your Eevee must have a fairy-type move and max affection in the Aime app. So, in canon, it would be just that; max friendship. I've got one myself

Sarah, you're fine with the Sylvie!
~~~~~~~~~~~~~~~~~~~~~~~~~~~~~~~~~~~~~~~~~~~~~~~~~~~~~~~~~~~~~~~~~~~~~~~~~~~~~~~~
School-Friendly Pokemon: (Celeste's then Elena's)
Ember
Pigwidgeon
Freya
Emma
Rebecca
Lacey
Fleur
Others: (Celeste only)
Belle
Endella
Mila



Posts

: 62


Join date

: 2013-09-22



Yay! *huggles all of you*


~~~~~~~~~~~~~~~~~~~~~~~~~~~~~~~~~~~~~~~~~~~~~~~~~~~~~~~~~~~~~~~~~~~~~~~~~~~~~~~~
I-~~~~~~-The Magical Baticorn Princess of Horsegard-~~~~~~-I
OC SELECT
Madotsuki!
Head of Events




Posts

: 69


Join date

: 2013-09-18


Age

: 24



Well, if it's alright with all of you, I mark this app

Approved!
~~~~~~~~~~~~~~~~~~~~~~~~~~~~~~~~~~~~~~~~~~~~~~~~~~~~~~~~~~~~~~~~~~~~~~~~~~~~~~~~
School-Friendly Pokemon: (Celeste's then Elena's)
Ember
Pigwidgeon
Freya
Emma
Rebecca
Lacey
Fleur
Others: (Celeste only)
Belle
Endella
Mila



Posts

: 62


Join date

: 2013-09-22



---
Permissions in this forum:
You
cannot
reply to topics in this forum